A NON-INVASIVE LIFT USING FOCUSED ULTRASOUND
Ultherapy
Savannah, GA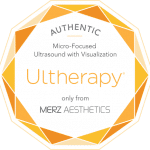 RenewalMD is the area leader on Ultherapy, which is the only FDA-cleared procedure to non-invasively lift the eyebrow, neck, and under-chin. It is also FDA-cleared to improve décolletage lines and wrinkles. Ultherapy has been established to be safe and effective in clinical studies and more than 1 million patient treatments worldwide. An Ultherapy procedure typically takes around 60 to 90 minutes, but will depend on the area to be treated and the treatment plan. There are no special after-care requirements and you can resume your normal activities immediately. Ultherapy has a 95% patient satisfaction one year after treatment.
PHOTO GALLERY
WHAT YOU NEED TO KNOW ABOUT ULTHERAPY
SCHEDULING A CONSULT
Dr. McGovern will discuss your options during your consultation in one of our two Georgia offices. Call 912.920.2090 or complete and submit the form to schedule a complimentary and confidential consultation.
REQUEST YOUR COMPLIMENTARY ULTHERAPY CONSULTATION
REAL PATIENT REVIEWS